THE LAURENCE OLIVIER AWARDS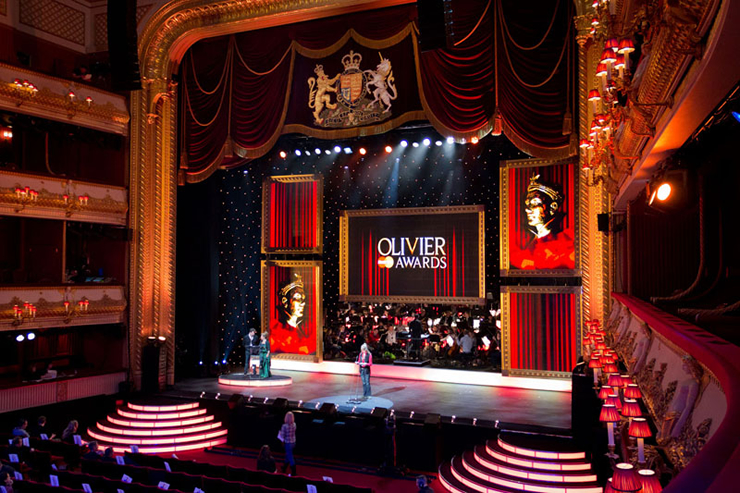 THE ROYAL ALBERT HALL, KNIGHTSBRIDGE, LONDON

The awards were first established in 1976 by the Society of London Theatre as the Society of West End Awards and were designed by artist Tom Merrifield. In 1984, British actor Laurence Olivier gave his consent for the awards to be renamed in his honour and they became known as the Laurence Olivier Awards. The first awards ceremony was held in December 1976 at Café Royal.

The Laurence Olivier Awards, or simply the Olivier Awards, are presented annually by the Society of London Theatre to recognise excellence in professional theatre in London at an annual ceremony in the capital. The awards were originally known as the Society of West End Theatre Awards, but they were renamed in honour of the British actor Laurence Olivier in 1984.

The awards are given to individuals involved in West End productions and other leading non-commercial theatres based in London across a range of categories covering plays, musicals, dance, opera and affiliate theatre. A discretionary non-competitive Special Olivier Award is also given each year. The Olivier Awards are recognised internationally as the highest honour in British theatre, equivalent to the BAFTA Awards for film and television, and the BRIT Awards for music. The Olivier Awards are considered equivalent to Broadway's Tony Awards and France's Molière Award.

Since its inception, the awards have been held at various venues and theatres across London, from 2012-2016 at the Royal Opera House, before moving to the Royal Albert Hall in 2017. Television coverage is broadcast in prime time on ITV, who acquired the rights from 2013 onwards with radio coverage by Magic Radio.
EXCELLENCE VIP SERVICES CAN ARRANGE OTHER IMPORTANT SERVICES AS:

PRIVATE JET CHARTER
HELICOPTER TRANSFERS
YACHT CHARTER
ACCOMMODATION
PRIVATE CHEF
MICHELIN STARRED RESTAURANT
PRIVATE CHAUFFEUR SERVICE
PERSONAL ASSISTANT
SECURITY SERVICES - PRIVATE PROTECTION - BODYGUARDS
FOR MORE INFORMATION PLEASE CONTACT OUR TEAM
+34 667 320 705
+1 786 408 6711
+44 20 8068 8107
office@excellencevipservices.com
Luxury Lifestyle Management & Concierge Services Worldwide