GASTRONOMY & RESTAURANTS
Luxury Gastronomy Experiences & Private Wine Tours
THE ART OF GASTRONOMY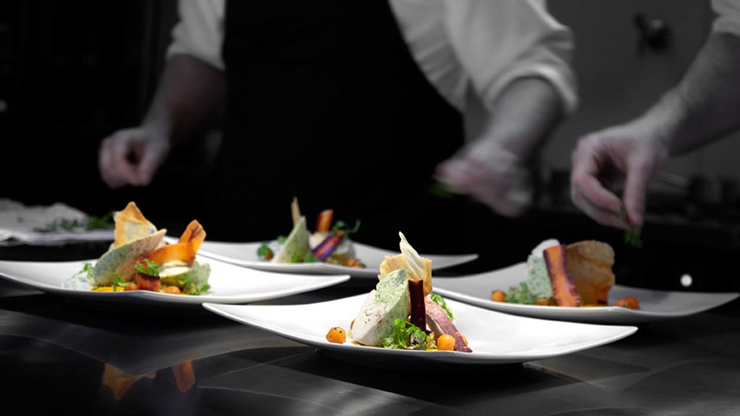 We have built a special guide to help you discover the best places to eat on this planet, selecting the nicest restaurants for their cuisine, atmosphere and originality. We promise to fulfil your exigencies and guide you to the perfect dining spot that meets all of your specifications.

From choosing the perfect restaurant to reserving the best table, we take care of everything for you.
Gastronomy

Gastronomy is one of the most rooted cultural pillars Worldwide. The know-how of the region's chefs, which stems from continuous experimentation, has given rise to the "New Cuisine" – a milestone that is not based solely on culinary creations, but also on the ceremony that surrounds sitting down for each meal.

Excellence VIP Services gathers the most exclusive experiences in unique trips designed for lovers of the good life. Our dedicated guides will discover you the art, culture, gastronomy, history and amazing landscapes from a new perspective. All our trips can be customized.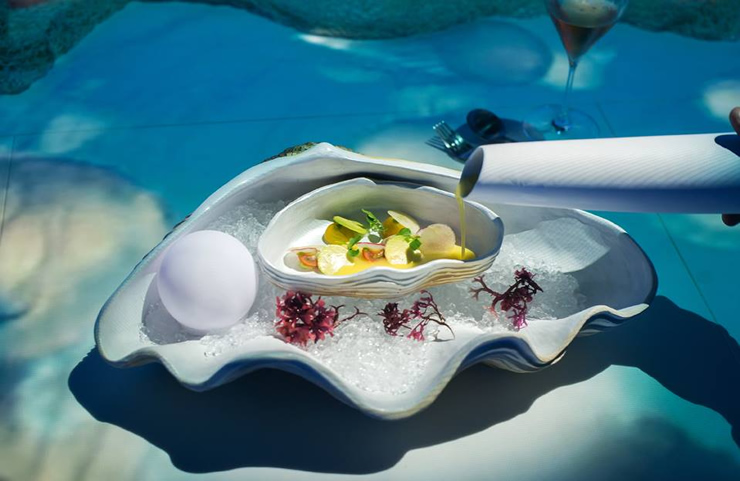 RESTAURANTS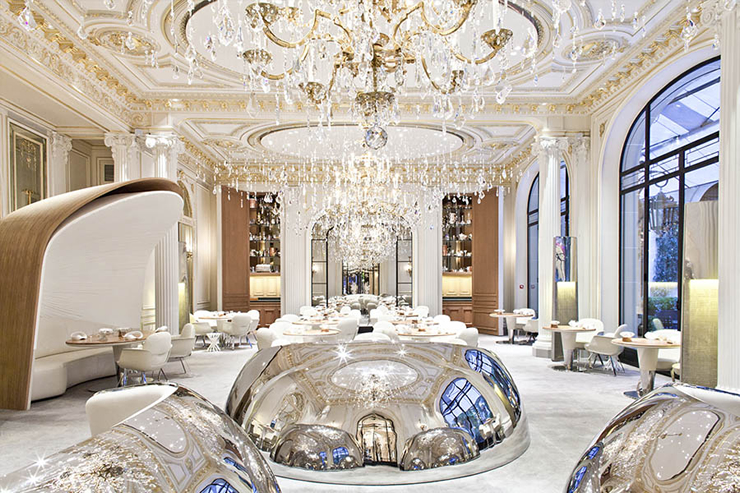 Restaurant Bookings
We convey the passion we feel for gastronomy suggesting restaurants that stand out for some reason and that enable to discover the most tastiest and authentic side of city. Of course, we will take care of booking a good table and ensure that all our clients receive a special and differentiated treatment once in the restaurant.

» Sophisticated and fashionable restaurants
» Authentic and traditional restaurants
THE MOST APPROPRIATE FOR EACH MOMENT

We always suggest those restaurants that best match the client's tastes and preferences, preparing a proposal and indicating which are ideal for midday or evening, for the first or last day of the trip and make every lunch or dinner a unique and different experience.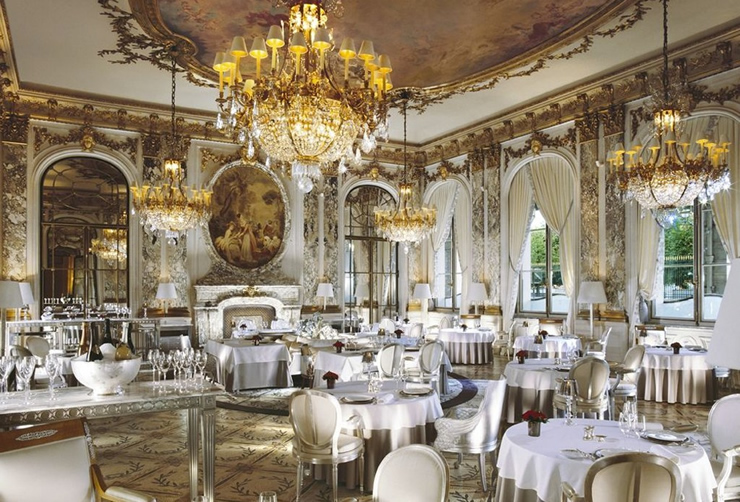 SPECIAL BOOKINGS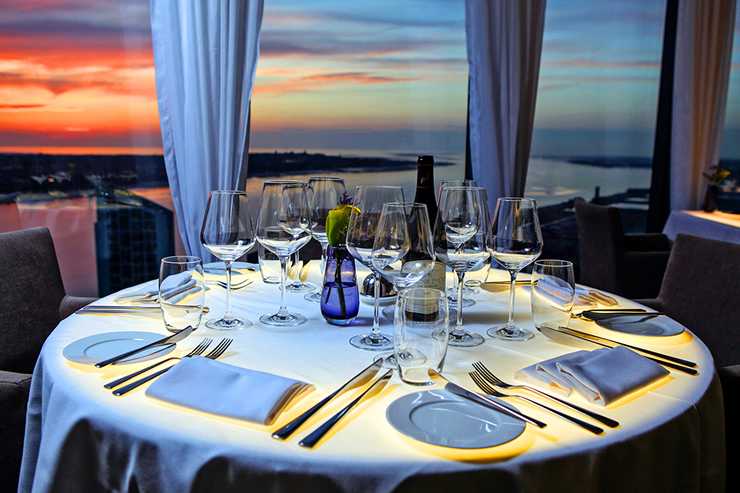 A special date is approaching and you don't know how to surprise your partner? Want to discover one of the Michelin-starred restaurants? Thinking about organizing a gastronomic event in an incomparable setting? Whatever it is, tell us… we will find what you are seeking.

Holding three Michelin stars is a rare honour few restaurants have achieved, and these Michelin-starred restaurants rank among the world's finest culinary destinations thanks to innovation, creativity and some of the best food you'll ever taste.

One of the most memorable experiences for real food lovers is without a doubt the sampling of dishes in restaurants, in this sense, those included in the Michelin guide stand out. This guide has had a listing of restaurants since 1920 and since 1931 it has given the restaurants their well-known classification, awarding three, two or one Michelin Star.
BOOK A CELEBRITY CHEF & EVENTS CATERING

Hire Your Own Private Chef for an Event and Treat your Guests to a Unique Culinary Luxury.

Unique Chefs: The famous and relevant chefs of the moment, for the most exclusive and innovative gastronomic events. We are dedicated to finding the perfect private chef match for your lifestyle.
We will share details of your event with our chefs so that they can best personalise your menu.
Whether you plan an intimate dinner for 2, an interactive cooking course for friends, or an important business lunch for 20, we have the right chef for you! Let us provide you with the service and attention your household deserves.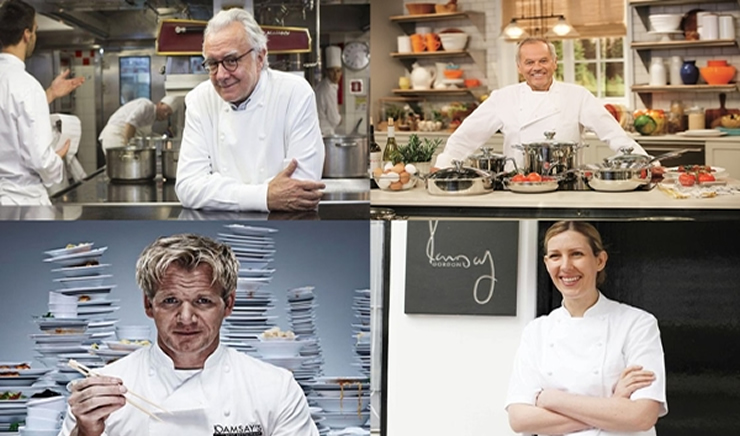 Florencio Sanchidrián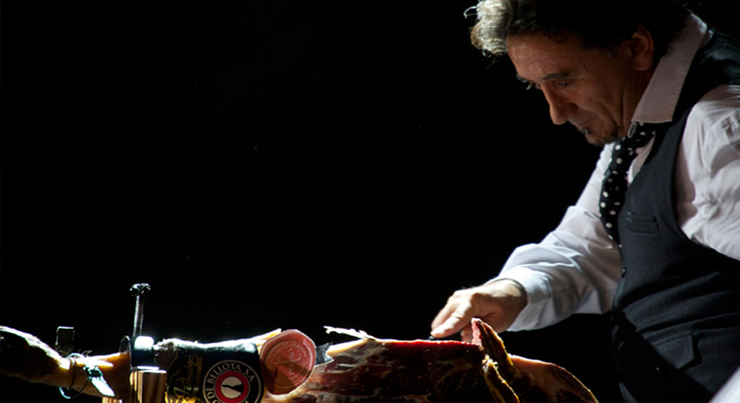 Spanish cortador de jamones Florencio Sanchidrián has cut ham for everyone from the King of Spain to Robert De Niro, and considers himself an ambassador for his country's Iberian ham.
He's cut ham for the world's elite. From Barack Obama to the King of Spain, Juan Carlos to the "Raging Bull" himself, Robert De Niro—they've all savoured the smooth, melt-in-the-mouth sensation of ham sliced by the great cortador de jamones, Florencio Sanchidrián.
EXCLUSIVE CATERING EXPERIENCES

A stay at one of our luxury properties to rent allow you to sample some of the best cuisine we have to offer, whether you are looking for a private chef to create a sumptuous feast from the comfort of your private residence, or a trip to some of the most exclusive dining destinations Worldwide. Of course it doesn't stop at the food; fine wines can be hand-picked and delivered to your door, or sample some of the finest whiskeys in the world with an evening of whiskey or cognac tasting. Ideal for special occasions or the perfect way to relax with friends, a gastronomic escape with Excellence VIP Services is a wonderful experience you will cherish for years to come.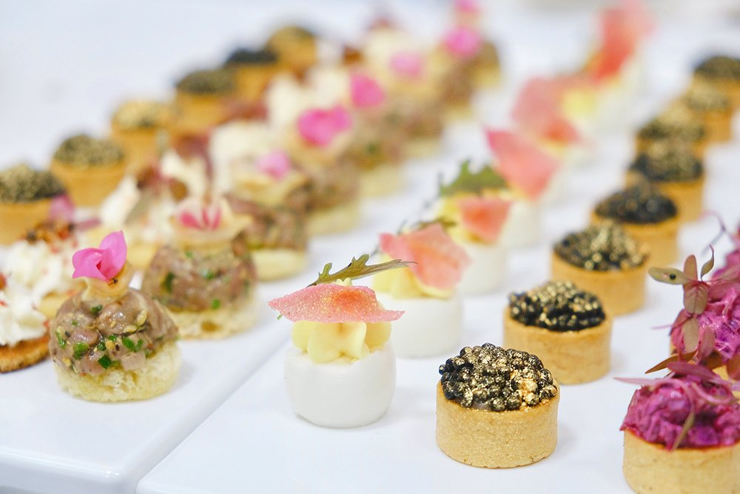 PRIVATE CATERING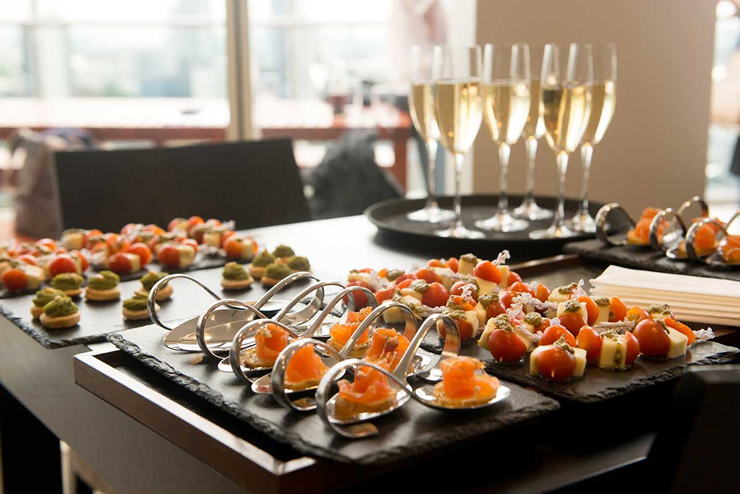 All of our beautiful homes for rent offer fabulous catering services, from finger buffets to fine dining. Several properties go that little bit further to offer cuisine designed and created by some of the best chefs Worldwide.
DRINKS

No dining experience would be complete without accompanying drinks. When you stay at one of our properties we can arrange a full drinks service, whether you are simply looking for a delivery of wine to the property ready for you to enjoy at your leisure, or a sommelier to devise a flight of wine to accompany your meal, we can assist. Or perhaps you would like to arrange wine or whiskey tasting, with a knowledgeable host to guide you through the process. If you are having a party, hiring waiting staff means you can relax and enjoy yourself in the company of friends, without worrying about whether your guests' glasses are empty. Or perhaps you would like a master mixologist to conjure up some fabulous cocktails to help make your party go with a bang.

Our experienced team can assist and advise to ensure your special event is perfect.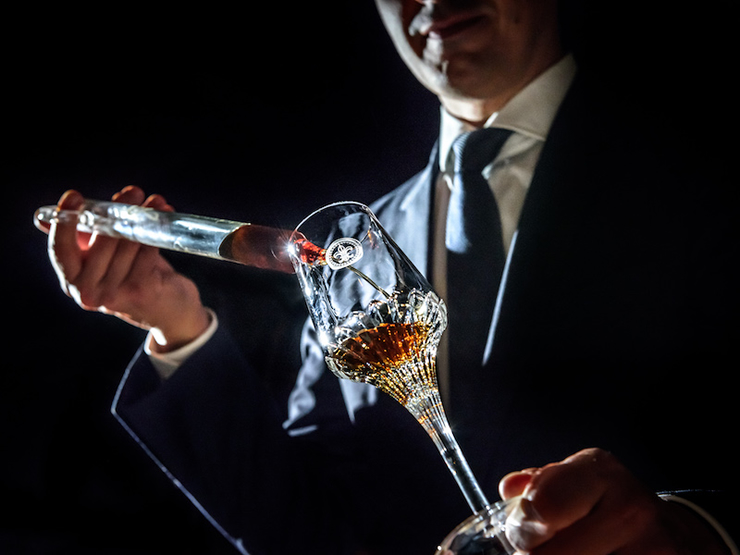 WINE & CHAMPAGNE

TAILOR-MADE HOLIDAYS, PRIVATE LUXURY WINE TOURS & DISTILLERY TOURS

WINE

Are you planning your next escapade to wine or spirits country? Would you love to find the perfect luxury wine tour or distillery tour for you but don't know where to begin?
Excellence VIP Services, we love holidays, fine food and superb wines and spirits, just like you. That is why we have travelled to the world's most famous wine & spirits destinations to find the best experiences they have to offer.

If you are a wine lover and you enjoy unique experiences as well, our exclusive trips are what you are looking for. Enjoy some of the best wines in the world, discover the most charming corners and rich cuisine, culture, art and history of countries like Spain, France, Italy or Portugal in Europe or other places as South America or Australia.

With our exclusive wine tours, you will not only enjoy the wine and the most beautiful wine regions in the planet, but you will also live unique sensations that you will never forget.
Sampling, tasting and private visits to the wineries

Another option related to luxury is found in product tasting, within this category the wine tastings and private visits to the wine cellars stand out, these experiences give us first-hand knowledge of the process of making a famed product such as wine, and allow us to taste the varieties that are elaborated in the wine cellar.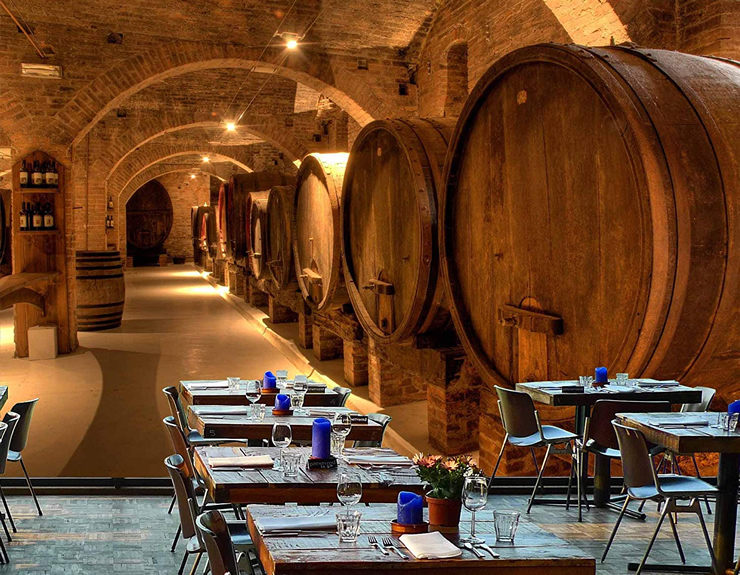 CHAMPAGNE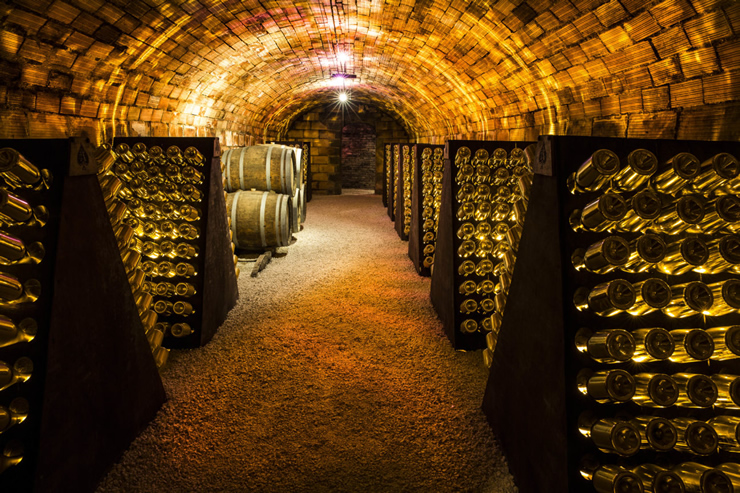 However, the tastings are not limited to the world of wines; other famous products in our gastronomy, such as the cheese, the olive oil and salt-cured meats are susceptible to providing the food traveller an unforgettable experience as well as gain knowledge of the secrets of the product that is tasted.

- Bespoke visits to the most renowned Champagne houses in Reims and Epernay
- Private tour and tasting at the Grandes Maisons de Champagne of your choice
- Visits to the best boutique producers of the area and tasting with the winemakers

Visiting the Champagne cellars will definitely be the highlight of your stay in the area. You will have the chance to take a glance at millions of bottles, which are aging patiently in the steady temperature of the crayères before being shipped all over the world.

Our luxury tours are 100% customized and tailored to your tastes and needs. You will have a private driver; stay in elegant, historic and boutique hotels; enjoy intimate wine tastings at top wineries; dine in the most exclusive restaurants; and take in captivating scenery of lush vineyards, dramatic coastlines and charming villages.

If you would like us to customize an exclusive, luxury tour for you, get in touch with us and let us know your travel plans. We offer luxury food and wine tours for private groups of minimum 2 guests.
CAVIAR

The purity, taste and texture of Caviar make it exclusive and unique. Every "pearl" has its special character. Nothing is added to nature's creation other than a little salt to bring out the flavours, making it a truly unequalled gastronomic luxury.

It is still not really clear where the name caviar comes from. The word «Cav-Jar» (dish of joy) comes from an Iranian tribe that used to live by the Caspian Sea and was among the first to dine on sturgeon roe. Other theories about the origin of the word include, for example, that the word caviar (Khaviar in Persian) comes from the Persian «Khag-viar» – a term used in the central Persian - speaking region for «small black fish egg».

It all began in the Caspian Sea which is still one of the main sources of Russian caviar today. But it did not take long before those seafaring people, the Phoenicians and Egyptians, also learned to appreciate the dish of joy. Soon the market for the delicious black pearls extended right around the Mediterranean.

RECOMMENDATIONS FOR ENJOYING CAVIAR AT ITS BEST

· Caviar must be kept cool after opening to preserve its flavour and freshness.
· Refrain from using silver cutlery, as this can affect the fine flavour of the caviar.
· The best temperature for storage is at -2° or maximum +2°C. It is best to enjoy your caviar fresh, as soon as possible after opening. If you keep it for longer in less than perfect conditions, the flavour and consistency may be impaired.
· Champagne goes extremely well with caviar. Vodka is also a traditional accompaniment. If you do not care for either, you cannot go wrong with a light white wine.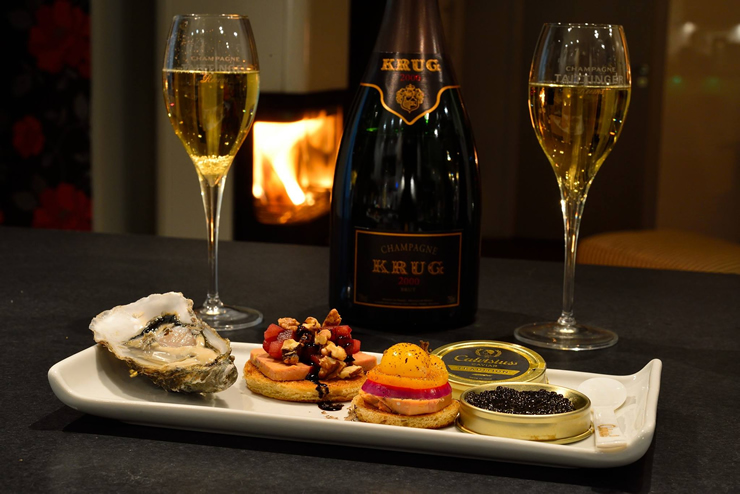 Heli-Glacier Picnic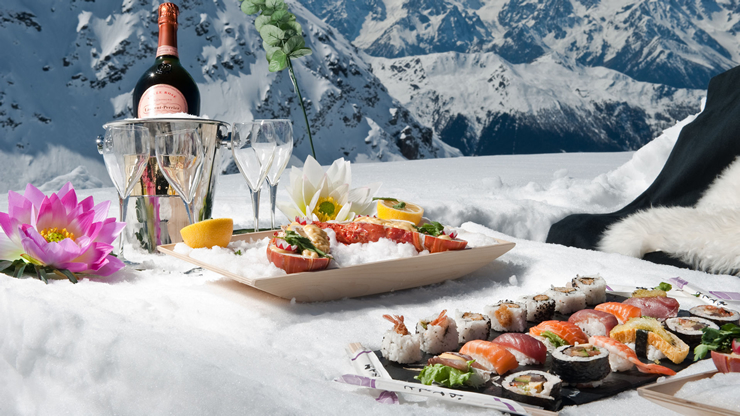 Heli-glacier-picnics, snow-table-dining, romantic-experiences or luxury-adventures. Do something memorable, fun and challenging in the mountains for yourselves or as a group.

A truly unique experience, the heli-glacier-picnics can range from a classic fondue to lavish fine dining. The experience can also be combined with heli-skiing adventures.

Dine around hand-carved snow-tables decorated with fur rugs and be served by glamorous waitresses and butlers in tailcoats.
If you would like us to customize a private luxury tour or a wine tasting/culinary event, contact us, and we would be delighted to get started on a custom designed itinerary for you.
FOR MORE INFORMATION PLEASE CONTACT OUR TEAM
+34 667 320 705
+1 786 408 6711
+44 20 8068 8107
office@excellencevipservices.com
Luxury Lifestyle Management & Concierge Services Worldwide